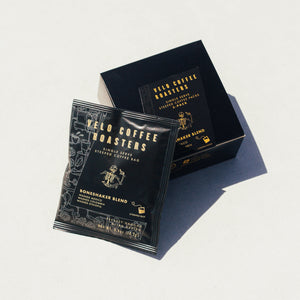 VELO COFFEE ROASTERS
Single Serve Steeped Coffee Bag
Sale price Price $2.50 Regular price
VELO COFFEE
ON
THE
GO
Introducing Velo Coffee single serve Steeped coffee bags!

For anyone who's short on time, big on quality. Featuring our iconic Boneshaker Blend.

The steps are simple.
1. Pour 8oz hot water over opened Steeped bag
2. Dunk 30 seconds, and let steep for 5+ minutes.
3. Toss used bag and packaging in the trash or compost. Enjoy!
A few ways to use them:

Hotels/Airbnbs

camping/hiking

a busy work day

on a flight or road trip

anywhere you have access to a cup and hot water
You never have to muscle down a crappy cup of hotel/airplane/instant coffee ever again. Available individually or as a 5-pack.