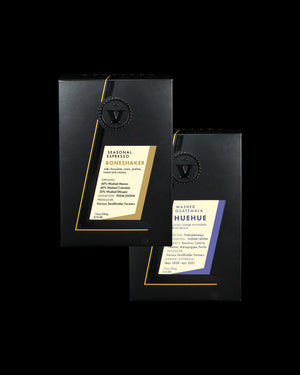 Velo Coffee Roasters
Curated Gift Subscription (shipping included) - 12 Month
Sale price Price $390.00 Regular price $0.00
Signing up for the Velo Coffee Subscription plan means we send out two 10oz boxes of whole bean coffee, delivered to you (or a friend) every 28 days for 12 months. Your subscription starts at the time of purchase.
Over the course of your subscription you will get to try a curated variety of Velo Coffees, plus an exclusive gift in the fist order for first-time subscribers.
If you're interested in picking up your subscription from our roastery, please email peri@velocoffee.com before placing an order to get the shipping cost taken off.
If the 12 month gift subscription plan isn't quite what you need, you can always subscribe to any of our other coffees to receive the same convenience of regular delivery and a discount to boot. Or, check out the 3 month or 6 month gift subscription.
PRICE BREAKDOWN:
15% off our regular subscription price - $306
$7 Flat Rate Shipping for 12 months - $84
Total: $390