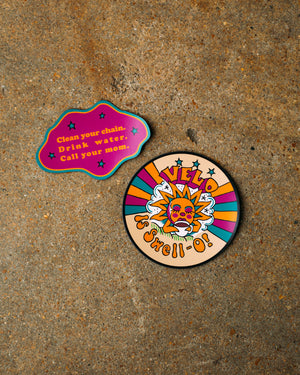 VELO COFFEE ROASTERS
SWELLO Magnets & Bumper Stickers
Sale price Price $4.00 Regular price
Our "Velo is Swello" merch features the artwork of tattoo artist Nate Harden. 
Magnets feature a powerful vinyl coating and magnetic backing to stay put and brighten up your fridge, office, or wherever you need to be reminded to call your mom.
Stickers are bumper sticker quality with thick, durable vinyl that are wind, weather, and highway proof. Stick to your bike frame or car for instant swello vibez.