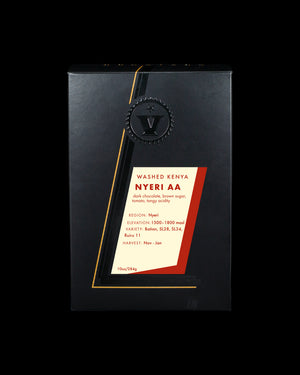 Velo Coffee Roasters
Washed Kenya - Nyeri AA
Sale price Price $17.23 Regular price
DARK CHOCOLATE, BROWN SUGAR, TOMATO, TANGY ACIDITY
10 oz. box of whole bean coffee

Process: Washed
Origin: Kenya
Region: Nyeri
Elevation: 1500-1800 MASL
Variety: Batian, SL28, SL34, Ruiru 11
Harvest: November - January
Importer Notes
Nyeri is situated between Mt. Kenya and the Aberadare Mountains, creating a perfect geographic and climactic area for coffee production. This area is historically the center of Kenya's coffee production due to the rich soil and fresh water moving through the area from the mountains. This region is home to the Kikuyu people, who have resided between the mountains for centuries. This area is rich with forests, wildlife, eucalyptus, bamboo, and rainforests. 
Although this specific lot is not traceable down to a single variety, it represents a blend of Batian, SL28, SL34, and Ruiru 11.
Most of Kenya's coffee is produced by smallholders delivering to factories (central processing units) who predominantly produce Washed coffees. Estates are also best-known for their Washed lots. The Washed process in Kenya may vary slightly from place to place, but it generally contains a soaking step that is unique to this growing country. First the coffee is picked ripe and depulped the same day, then it is normally fermented in open-air tanks made of concrete or cement for 24–48 hours. It's then washed thoroughly using water channels before being soaked underwater for 12–72 hours. It is then spread on raised beds to dry.